Pumpkin Seed Oil
The Styrian Pumpkin Seeds Oil Portal.
Naturally Pumpkin Seed Oil
Pumpkin Seed Oil is a culinary specialty from Austria. The viscous oil is made out of slightly roasted pumpkin seeds and it's a highly precious vegetable oil. As part of a healthy diet, it's a tasteful supplement to the daily menu. Experience the unmistakable taste of Original Styrian Pumpkin Seed Oil now!
Legendary Flavour
Shining dark green with an auburn glow. Smelling temptingly of freshly baked bread crust and walnuts. This is most precious Styrian Pumpkin Seed Oil. Coming home, feeling good. No wonder that this oil has conquered hearts of gourmets all over the world.
Order online now and have it home-delivered conveniently
Benefits of Pumpkin Seed Oil - How to use
Pumpkin Oil benefits the prostate, heart health and the skin. Studies suggest Pumpkin Seed Oil effectively treats urinary disorders, specifically an overactive bladder. And because of its valuable ingredients
Pumpkin Seed Oil
also beautifies skin and hair and supports hair growth.
It's been know for ages. But now, since researchers have proved that Styrian Pumpkin Seed Oil not only has culinary advantages, but also has an excellent effect on the health of humans and animals, Pumpkinseed Oil from Styria is becoming more and more popular all over the world.
Try some of our delicious
Pumpkin Seed Oil recipes
!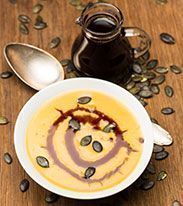 Pumpkin Seed Oil tastes dazzling
More about the health benefits of Pumpkin Seed Oil
Use of Pumpkin Seed Oil in Beauty and Cosmetics
Recipe of the day: Salad Dressing with Pumpkin Seed Oil and Sour Cream
Pumpkin Seed Oil: Made most uniquely!
Pumpkinseedoil, honored with hundreds of awards - how is this natural quality product manufactured? Is the secret to be found in the traditional cold pressing process in the stamp press? Or is it the gentle roasting? The natural pumpkin seeds? Or just the decade-long experience and the sensivity? The fact, that we only fill primary pressure?

Probably it is a sum of all these factors. Anyway, with the gentle pressing all valuable fatty acids, vitamins, minerals and other nutrients are completely transferred from the seeds to the oil. And that's exactly what you taste. Thousands of customers appreciate our tasty Pumpkin Seed Oils delicious and unique in character!
More about the Production of Austrian Pumpkinseeds Oil
Tips on Storing Pumpkin Seed Oil
Excellent Oil Quality from Styria, Austria
We are gladly the Pumpkinseed Oil online store of your choice.
With happy customers in 97 countries worldwide.
Awarded
Our products have been Gold awarded for many years.
No Additives
100% pure, 100% Styrian.
Natural Cultivation (PGI)
All our pumpkins grow naturally on fields in the region of Styria, Austria.
Made with Love
All our products are manufactured carefully in Styria.
Simple Payment
We accept Credit Card, PayPal and Prepay.
Traditional
Grandpa knew: Gently roasting brings out the delicious aroma.
Gift boxes
Get or give a gift that will bring culinary joy!
GM free
Our Products are free of genetic modifications.
Get a 5 € Coupon for your First Order!
Simply subscribe for the free newsletter!
Why our customers
love our Pumpkin Seed Oil:
Thank you for the delicious oil and amazing packaging! We are really enjoying it.
Thank you very much for your prompt response. I love pumpkin seed oil and I am happy I have found a way to have it in UK.
I've tried your pumpkinseed oil and it's just delicious. For the Pumpkin seed pesto, which I already knew before the current purchase, this is undoubtedly the same.
I got my order just today and I love the taste! Best regards!
Pumpkin Seed Oil International